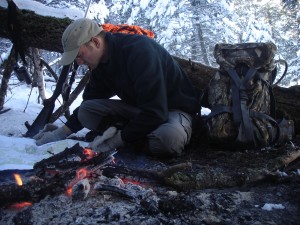 Fourteen miles into day one and I was spent. This was supposed to be an easy day;  Make a quick trip into the backcountry, cache my tent, sleeping bag and a few other essentials for next weeks trip, then scout my way back out to the truck. Trashing my mountain bike on a snowy, frozen trail two hours before light cost me a lot of time, scored me a few bruises, and set the tone for the day. An hour later, after reading my topo map via headlamp, I headed up the wrong drainage for three miles before realizing my mistake. This cost me six miles of extra trekking with a heavy pack and ticked me off because I know better. The rest of the day completed the twenty-two mile grind, but I was able to stow my gear, and get back to the trailhead shortly before dark.
Despite the inauspicious start, I couldn't wait to get rolling the following week. After months of conditioning, planning, sorting gear and scouting, the hunt was on!I left the trailhead with fellow backpacking crazy Jason Snyder at 11pm on Halloween night with six inches of new snow on the trail, wind-chill of -20, and fully loaded packs on our backs. The plan was to walk nine miles in during the night, set our camp, catch a few winks and be ready to hunt up high in the morning. The first couple hours of our trek were uneventful with the stars out in force and the moon bright enough to cast shadows through the forest, temporarily negating the need for head lamps.
Then life got rougher. The trail became steeper and narrower as it worked its way to the top of the range and a 2000' elevation gain, with the weather turning out to be the wild card that changed everything. The fresh snow created less than desirable climbing conditions, really making us work for the elevation and progress we gained. When we broke out of the trees the wind hit us full force, the wind-chill dropped to -38 degrees, the snow got deeper, our water bottles froze and we began to take stock of our situation.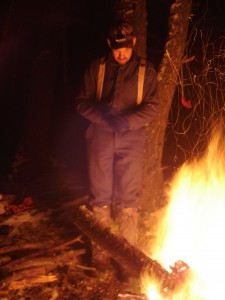 We had had minimal hydration and very little food since beginning our adventure five hours ago. It was to cold to stop for more than a minute to rest and we were on the edge of exhaustion with roughly 2 miles to go. I pounded a couple of Hammer Gels as Jason led us off through the now drifting snow and inky blackness towards a glowing spot on my GPS that promised relief from the wind. Seemingly an eternity later we arrived at my gear cache, started a roaring fire, ate cold oatmeal, a handful of granola bars and attempted to thaw out our frozen water bottles.
First light found us glassing the ridgelines, timber and aspen pockets looking for the big bucks that had been using this country all through the fall. After 4 hours of walking and glassing from the highest vantage point in the area, we had located zero deer. Jason and I talked about it and came to the unpleasant realization that the early onset of nasty winter weather had already driven the bucks down to lower elevations, so we loaded our camps back up and headed for lower ground. After dropping 4 miles off the top and giving up over 1000' of elevation, we started seeing deer. We found a place to camp at 4:30 pm, set up our tents and were asleep in a cold camp by 6pm. Trekking for 16 hours in the cold, with no sleep really wiped us out and made us appreciate our spartan camp that much more.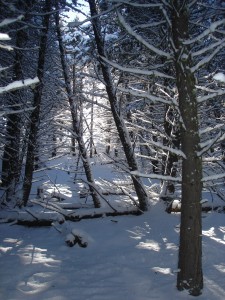 Tired or not, we were up an hour before light and anxious to get moving to stay warm. I took off towards a drainage I had scouted a good looking buck in earlier in the year, and immediately started seeing deer. Lots of does and small bucks out feeding on this cold morning, but I didn't glass up any good bucks so I headed higher up the ridge. The temperatures had warmed up to 15 degrees and the walking kept me warm.
Around noon I found another good spot to glass from, so I built a fire, had lunch and glassed until it was time for a snooze. Glassing did not produce any buck sightings, but gave me a great look at some new country and helped me formulate a plan for the afternoon.
As I still hunted through the burned timber I picked up a good sized set of deer tracks and began to follow them in knee deep drifted snow. The tracks were fresh and the wind was right but I had no real designs on tracking this deer down. That is until the tracks veered into the timber and I saw the buck bedded in a slight depression looking at me. He was partially buried, lying in the deep snow with a skiff of blown snow covering his back and the bases of his antlers. After getting a good look at him, I knew he was a shooter but he had me pegged and I was stuck in the open less than 100 yards away. I froze in place and waited for the buck to lose interest in me, hoping he wouldn't bolt. A couple minutes into our stare down and I started to shiver as the sweat from the days hunt began freezing under my base layer. Couple that with the excitement of being so close to such a great buck and I was coming down with a case of the shakes. I decided it was time to force my hand before the buck played his, so I eased my rifle up and wasted no time putting my first shot right over his back! As he boiled out of his bed, I shot again, heard the bullet hit and saw the buck flinch at what appeared to be a solid hit. On shaking legs I approached his now empty bed and picked up the blood trail. The trail was easy to follow as the buck plowed through deep snow in the timber, but rapidly deteriorated as he moved over the top of the ridge and onto a south facing slope, with very sparse snow cover.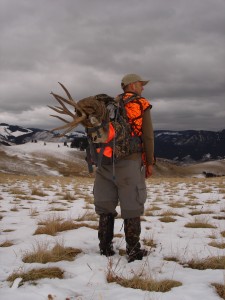 To make matters worse, the blood trail which had started out looking like it would quickly end at a dead buck was dwindling down to nothing. I marked the last blood I found with orange flagging, entered the waypoint into my GPS and sat down to take stock of my situation. Daylight was on it's last legs, the temperature was rapidly increasing and the sparse snow on the south facing slope was shrinking quickly, further complicating an already difficult tracking job. I decided to wait out the buck for thirty minutes, and then use the remaining daylight to take up the track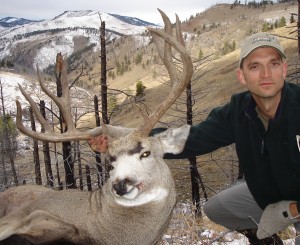 After spending the longest half hour of my life glassing  and praying I'd be able to pick up the bucks track again, I started off making ever increasing circles around the place where the bucks track had vanished, to no avail. There was one good band of timber below me, and with no tracks or spoor to follow I decided to loop around, get the wind right and still hunt for sign in the timber. Working my way across the south face, my prayers were answered as I cut good tracks and blood on the snow. I had my head down, intent on the track when the buck blew out of the brush not 50 yards to my left, heading for the burned timber. The follow-up shot flew true, and I found my buck in the timber at the head of two drainage's. The setting sun cast a beautiful glow over the mountains and timber that created a clarity and depth of terrain features I'd never seen before. It was in this light I studied my buck, up close for the first time. He was an awesome creature to behold with heavy, dark chocolate antlers that spread well outside his ears.
The rack is exactly what you'd expect of a big high country mule deer. Lots of mass, with gnarled six inch bases, decent brow tines and good forks made this a solid 180 class buck and the type of mulie I've been looking for.
I arrived back in camp two hours after dark to find that Jason had killed a great whitetail buck earlier in the day and had already packed it out. That night, the Chinook winds began to blow and the temp went from around zero degrees to 40 above. Overnight, much of the mountain snow melted, turning the trails into mud and filling the creek beds with runoff.
The next morning we picked our packs up again and headed back to my buck. As much as I like to hunt solo, it was awesome to walk up on that buck with Jason and be able to share the excitement with someone. We spent 45 minutes taking trophy photos, then got started caping and boning out the buck.  With the meat chores completed, we headed for the truck with loaded down packs. 16 miles of back and forth packing got our deer and backpacking gear out to the truck. It was some of the hardest, most fun, most rewarding trekking I've ever done.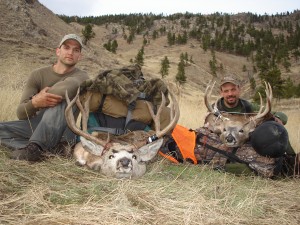 Dropping our packs on the tailgate after hauling out the last load was extremely rewarding and relaxing in the truck on the drive out was even better. After pushing up against physical and emotional limits, being able to totally relax and let your mind and body shift out of high gear is indescribable.  Over the course of four days, I walked 54 miles with a loaded pack, froze my butt off, ate more than my share of cold oatmeal out of a Ziploc bag, lost 5 pounds, gained an awesome hunting partner, and we both killed good bucks.
That's about as good as it gets when you're backpacking the Montana high country in November and I can't wait till next year!
This article originally appeared in the Eastmans Hunting Journal DIY Public Land issue in 2007.