How hard can ice fishing be, right? The first time my warm weather fishing buddy and I attacked the ice fishing scene, we did it with an axe and a couple of full length fishing poles. The resulting comedy of errors was both hysterical and immensely frustrating, ended with a tiny crappie frozen to the ice and embedded a desire to get it right.
Years later, I'm still far from being an expert (and consistently mooch gear & insight from my friends that are) but I've learned enough through trial and error to play a hand in putting some solid fish on the ice. What follows is a basic primer on getting started and having fun in the cult of hard water fishing.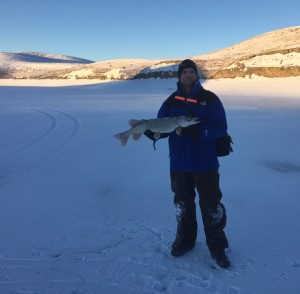 Make friends with an ice fisherman
The fastest way to get off to a good start in the world of ice fishing is to make friends with someone who does it consistently and go with them as often as they allow. Pay for gas, buy bait, volunteer for the less desirable jobs and soak up the knowledge they have. This will save you the frustration and wasted time and money that result from launching headlong into an outdoor endeavor without a clue. Online tutorials like those found at www.missourisecrets.com will also short circuit the learning curve, but there is no substitute for time spent on the ice.
Gearing up
Fortunately, entry level ice fishing gear is not pricey, but for those of us starting from scratch, the costs can still mount. Montana allows 6 actively fished holes per licensed fisherman so I started out by purchasing 6 tip ups (on sale for $7.99 until January 31 at N40) and a jigging rod to keep me occupied if tip up flags weren't flying. Add quality line, leaders, and hooks to each setup for another four or five bucks each and you'll be in business.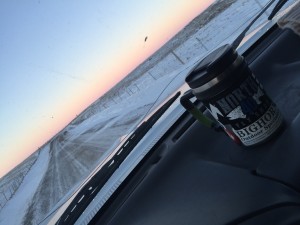 Prices for bait varies based on your location and whether you are fishing live or frozen bait. Try some of both, develop your own favorite, and find a shop that works for you. Frozen smelt at my local N40 Outfitters run $5 a dozen and are a favorite snack of Northern Pike in Central Montana.
The largest investment you'll make ice fishing, by far, is the ice auger that drills your fishing holes. Bypass the hand augers (unless you want this to be mostly an athletic competition) and go with the best gas powered hole driller you can afford. In-store experts can provide more detailed information, but after doing it the hard way multiple times, I won't ever go on the ice again without a power auger. They effortlessly zip holes through ice that can be "feet thick" in seconds and have you fishing multiple holes in the time it would take to sweat your way through one hole the old fashioned way.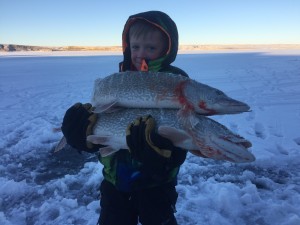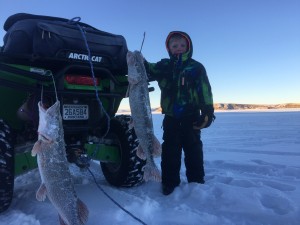 Have Fun!
Ice fishing is a social activity as much as it is an angling science. Bonfires, sledding behind an ATV, fresh fish fry's right on the ice, and smoking cheap cigars are just a few of the activities that make fishing frozen water fun and have nothing to do with actually fishing! Gather some gear and friends and head to a lake with a solid sheet of ice on it. Bring along a chair and good attitude and you never know what you might pull through the ice!
Want more information? Stop by your local North 40 Outfitters and talk with an in-store expert or message me on FB or Instagram @gffr35.
See you on the ice!
Shane