Perspective
"A specific point of view in understanding or judging things or events, especially one that shows them in their true relations to one another."
"… The ability to see things in a true relationship."
The wanin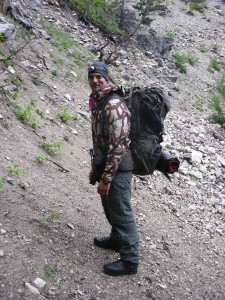 g beam of my headlamp cut a dim swath through the inky blackness, making an already graduate level desent downright spooky at times. The horns and cape of a trophy bighorn ram added weight to my pack and purpose to this excursion. Soaked in sweat, despite the chill of the night air and fresh snow on the ground, I worked my way down off the mountain and into the grasp of chokingly thick willows.
Bouldering down the steep pitch while fighting willows took the last of the strength from my legs and I found myself face down next to the raging mountain stream I'd been walking in.
With my resolve on life support, I struggled back to my feet and joined my partner, to finish off the trek to camp. One o'clock in the morning found us concluding our inglorious return to a cold camp on a wispy second wind. Thirty minutes later, meat and hide hung high in the trees, a raging fire cut through the frosty air, dry clothes were donned, and water was boiling for our dehydrated dinners.
Life seemed doable again, even thrilling, as if there was no other place on earth I'd rather be. My perspective had changed for the better, allowing me to enjoy and appreciate the "now". Throughout the 16 mile pack out to the trailhead, involving horse wrecks, 50 mph winds, bone chilling cold, and snow, my attitude waxed and waned, but my perspective never changed. This was the adventure of a lifetime, and I relished the opportunity to work through its struggles.