I was sitting on the couch with my wife, daughters and Mozzy the Man when my personal and work cell phones rang simultaneously. Having spent most of my adult life as a firefighter / paramedic, I knew that this meant that "its time to go to work." On this night, it was a wind driven fire, originating in a home under construction and spreading to occupied homes in a neighborhood south of town that beckoned. Crews were on scene fighting flames, high winds, low temperatures and a constant freezing mist generated by their hose streams that encased apparatus, equipment and firefighters. A second alarm had been struck, mutual aid requested & received, and Chief Officers called in  for support, so off into the night I went.
On arrival, I took in the scene with pride for the work that our crews had done already, were in the midst of doing, and would do for the next several hours. Although the building under construction where the fire originated was a total loss (vertically oriented, kiln dried fuels in open-space homes under construction almost always are), the occupied home adjacent to it had been spared by the professionalism, hard work, and intelligently executed plan of the first arriving crews.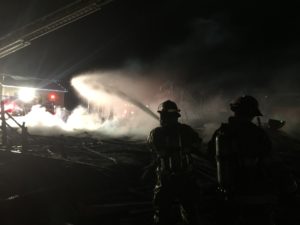 They had been trained well, brought experience to the table, were willing to do "the work", seemed oblivious to the harsh conditions and demonstrated authentic compassion for the property owners loss. These are the intangible qualities of a firefighter, what makes them respected by the community, revered and emulated by children, and fills my heart with excitement to play a small part in their work, when both phones ring.