Frozen Eyelets, Frost nipped Fingers… and Hot Fishing
By Shane Klippenes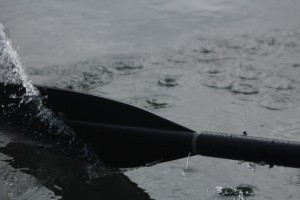 I clearly recall my first attempt at fly fishing the famed Missouri River. I hit the water with my wife in a pair of borrowed kayaks, dressed for the heat in shorts, Keens, and a tee shirt when an elderly "gentleman" walked by. He was outfitted from head to toe in the latest gear and garb, looking like he had just stepped out of the pages of a high end fly fishing magazine, and as such ought to be a good source of information. After a few words, I let him know that we'd never fished the Missouri before and were wondering if he had any advice. The man paused, seeming to collect his thoughts and said "You've never fished the Missouri before? Well then, you're screwed". Having dispensed these pearls of wisdom, Mr. Snobby Pants got into his fishing guides shuttle vehicle and drove off.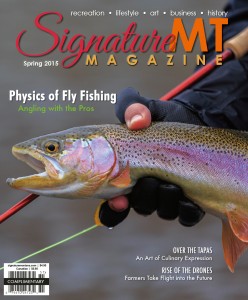 Years later, I was on my way to that same boat launch. This time however, it was February, clear skies and very cold, and I'm riding with a couple dudes that look like they could be Orvis models themselves. Despite the top end gear, both Fred and Joe were the exact opposite of Mr. Snobby Pants. Humble, hardworking, an encyclopedic knowledge of river conditions and fish behavior, combined with infectious enthusiasm for what the day might bring, made for a quick ride to our launch point.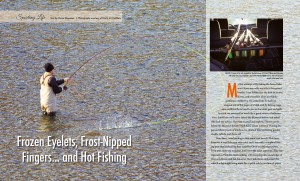 Fred Telleen was riding shotgun, and after some prying, I found that he's a veteran, Alaskan fly fishing guide of 26 years. He knew from a young age that he would make his living fishing, planning to be a Muskie guide in Northern Wisconsin. While putting those plans into place, the allure of Alaska proved too much and Fred spent the next 26 years outfitting and guiding fly fisherman in the land of the midnight sun.  The chance to put his stamp on the fly fishing business in Central Montana came about when he was offered the opportunity to run the North 40 Fly Shop in Great Falls, MT. Providing top end gear, advice, and service has long been a staple at the shop but building a solid social media presence, blogging, and developing how to videos and print stories for the North 40 brand are newer developments and challenges that intrigued Fred enough to bring him out of Alaska and onto the North 40 team.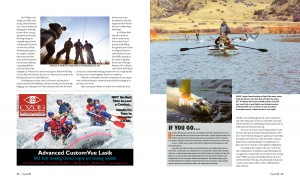 Joe O'Brien finds himself on the front end of potentially, a very similar story. In his young 20's, a passion for fly fishing brought him into and out of college in Bozeman and landed him back in Great Falls, squarely in the center of arguably the best trout fishing in Montana. He is a fixture at the North 40 Fly Shop and is just as comfortable teaching people how to tie complicated fly line knots as he is knowledgeable on river conditions.
With this combination of youth and experience as my chaperones and informal guides for the day, I knew this trip had all the makings of an epic day on the water.
After meeting up with the rest of the crew, we filled the boats with fly rods and fishing gear, food, camera equipment, and cold weather gear. As the sun crested the mountains and flooded the river with fleeting warmth and beauty, we drifted into the first hole of the day. To me, it was a rather innocuous looking stretch of water, but those who had "paid tuition by spending time on the river" knew better. By asking a few questions, I learned that during this time of the year, when rod eyelets ice up and fingers freeze, requiring changes in our approach as anglers, that the trout we seek also make significant adaptations.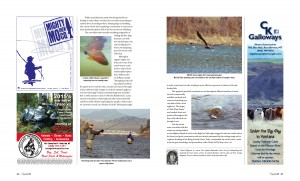 According to the experts in the boat "Cold water and resulting slower metabolisms make fish hungry, but not aggressive and leaves fish concentrated in slow moving water." Within moments, Fred backed up his statement with the first fish of the day, a beautiful rainbow that took a "super-secret, hand crafted creation" drifted below a strike indicator. While many people study which bugs the fish are feeding on and tie their own flies, this crew takes entomology to another level. According to them, studying bugs and anything else a trout will eat, then employing a micrometer to create exact sized, handmade replicas adds to the fun and success of fishing.
The crew fished virtually everything imaginable including dry flies, large streamers cast with two-handed Spey rods, and everything in between, but nymphing proved to be the order of the day. This approach provided consistent success throughout different stretches of water, on both commercially available and hand tied versions of anything you can think of that a trout might eat.  The slogan of "Fish What Works" was bandied about throughout the day and put into practice, as fish after fish was brought to net.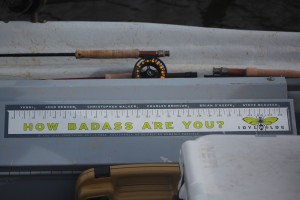 Although it appears simple and truly can be one of the easiest ways to catch trout on a fly rod, the resident philosophers had a different take on drifting a nymph. "Nymphing is like solving a physics problem. It requires you to read the water, calculate and execute the angle of your drift and make changes as needed to optimize angles to your best advantage". Despite my initial skepticism and statement that "a strike indicator is just a bobber for fly fisherman", after many missed fish and blown drifts, I came around to more of the physics related approach as well. Besides suspending the nymph, a strike indicator "provides a visual cue of strikes and drift" allowing the angler to make corrections to both, resulting in more effective responses to strikes and cleanly hooked fish.
Our day on the water concluded with the winter sun setting behind us, just the slightest breath of wind on the frigid air, Bald Eagles engaged in mid-air combat above the boats, and good conversation with new friends interrupted by the rushing wings and cacophonic honking of low flying Canada Geese. Truly an epic day on the water… one made better by the gear, knowledge and personalities of the North 40 Fly Shop crew.
If You Go…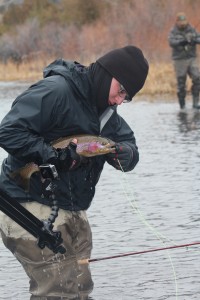 Boasting 5,900 trout per river mile (per 2013 Montana FWP biologist stats), the Missouri River can be an unbeatable fishery for those that know how to fish it. Despite high fish numbers, the rainbows and browns that call these waters home see a significant amount of pressure from anglers, resulting in wary fish that spook from a bad drift, the wrong fly or an errant cast.
As such, it makes sense to gear up with both the equipment and knowledge you need, before leaving town. Both are available online at www.North40.com or in person at 4400 10th Ave S, Great Falls, MT.
Craig, MT is the hub for fly fishing on the Missouri River, with multiple shuttle services, boat rentals, a boat launch area, restaurants/ bars, and proximity to solid fly fishing stretches of the river. Located almost exactly between Great Falls (50 miles) and Helena (43 miles), this little town can get quite busy during peak fishing times, but seems built to handle the rush. Shuttle services can be convenient, reliable and inexpensive, with shuttles ranging in price from $20 to $50 based on distance traveled and which service you employ. A quick google search should net you at least 3 options, with similar rates and features.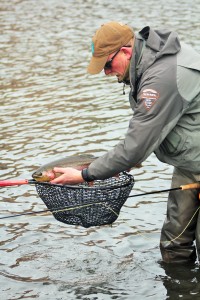 The Physics of Fly Fishing???
This is a perfect example of a story idea changing to meet the intellect of the folks you're with!. Fred Telleen and the N40 Fly Shop crew are Masters of the Missouri and shared a bit of their expertise on this cold weather trip… I had a blast working with the #N40FlyShop crew and #signaturemontana on this assignment that lived up to the billing weather wise with fishing that exceeded expectations! Look forward to doing it again guys!